Sorry it's been a while since my last post but I've been extremely busy. No, I haven't actually joined the circus, although it may look like I have in some of the following pictures.

It's been the big annual event at my work again, where several polo tournaments were held, and clients, suppliers and staff and their partners were invited to. We were all welcomed with champagne, followed by a posh picnic, afternoon tea and of course watching polo, including the traditional divot stomping at halftime like they do in Pretty Woman. They also had an old fashioned carousel, which wasn't going round until later at night, but that didn't stop me from getting onto one of the horses to pose for a picture.


The party in the evening was themed fancy dress. This year the theme was Circus and I decided to go as a lion tamer and Jamie as an evil clown. I managed to get my outfit sorted without spending much money and by making my own accessories: the whip was a crochet covered stick and the fire-ring was a crochet covered hula hoop with some fabric added to make it look like flames.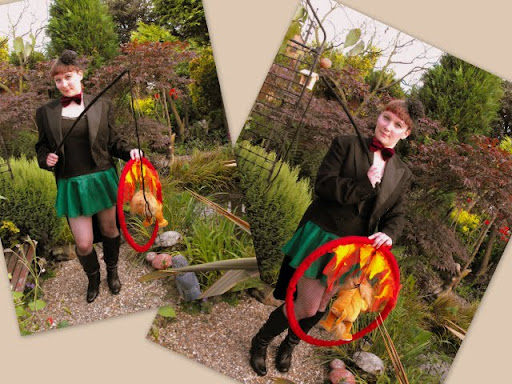 When we arrived at the Circus ...


... I found a lion to tame near the popcorn machine, ...


... some mirrors, that make you look funny, ...


... a proper circus performing, ...


... Danger Mouse and ...


... candy floss!


Also, after waiting patiently all day I finally got my ride on the merry-go-round.